Svenska Last Lynx [SoFo Records / Universal Music] rosas av The Guardian för sin kommande singel Lacuna. Den här veckan hade bandets nya video premiär på den brittiska tidningens hemsida.
Lats Lynx består av Robin Eveborn (sång, keyboards), Fredric Lindblom (trummor, sång), Marcus Lindblom (gitarr), Kim Lindqvist (bas, sång) och Camilla Dahlstedt (sång, syntar).
Så här skriver The Guardian om Last Lynx, som hyllas som New Band Of The Day:
"There are echoes of West Coast easy-listening, of mainstream '70s and '80s pop, of Yacht Rock, even of chillwave. Notice there a narrowing of reach as you move from music that was arguably the most popular of its era – Fleetwood Mac particularly – to music that ironically or lovingly paid it homage to limited commercial effect, to music with only the vaguest hint of the enormity of the original audience. Last Lynx have the potential to be bigger than a Washed Out (who, by the way, we love). Besides, they're not a laptop loner, they're a band, and as such they're more Haim-like.
Or Cardigans-like. Let's not ignore the other key factor behind their luscious poppiness: their Swedishness. We're not talking Max Martin or any of those deathlessly machine-perfect dance producers du jour. We're talking about that innate knack for the mellifluous, melodic and rhythmic peculiar to Scandinavians. They emerged a year or so ago with debut track Killing Switch, which shot to #1 on the Hype Machine days after its release. It could have been about euthanasia or merely a metaphor for a heartless lover, but the music was Haim/Mac-esque in its unruffled smoothness.
Next release, the Alaska EP, featured midtempo funkmospherica worthy of Empire Of The Sun and was followed by the Ocean Reels EP, produced by Lasse Mårtén (Lykke Li, Nikki & the Dove, Peter, Bjorn & John etc). It's an excellent showcase for their brand of lush restrained emotionalism – on Late Disco, Robin Eveborn and Camilla Dahlstedt come across like a frozen tundra Ben Watt and Tracy Thorn, dispatching with icy passion such missives as, "I lost my way back then – hope you didn't think I was a monster, but I am." City Lights is electronica-lite, but things take a turn for the intensely poppy on Leave Them Behind, notwithstanding the references to suicide. The Great Water Sequel recalls Wings/ELO with a dash of Polyphonic Spree. Luminous Blue warns about trapdoors while sounding like a gateway to paradise. If the new single Lacuna – available as a free download through the band's Facebook page for a limited period – is any measure, their forthcoming Rifts EP, another collaboration with Mårtén, should be another doozy. It is gorgeous, although as ever we can't vouch for its success beyond the purely theoretical.
File next to: Cardigans, Haim, Empire Of The Sun, Everything But The Girl."
Claes Olson
Foto: Richard Franzén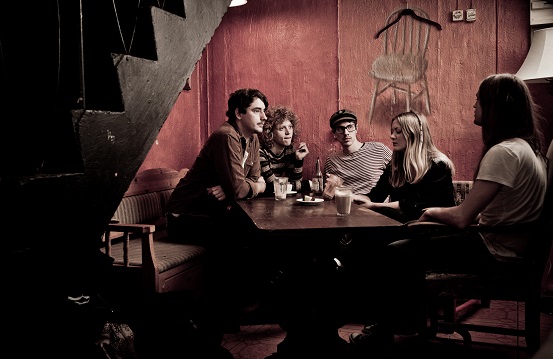 Länkar:
http://www.theguardian.com/music/2014/jan/14/last-lynx
Urban Outfitters Blog
http://blog.urbanoutfitters.com/blog/music_monday_december_23_2013?cm_re=Blog_Content-_-B8-_-music_monday_december_23_2013
Meadown Music – Favourite Songs of 2013 – Hype M
http://meadowmusic.se/en/2013/12/favourite-songs-from-2013/
Hearty Vibes – Hype M
http://www.hearty-vibes.com/2013/12/last-lynx-no-1988.html
Music Shepherd
http://musicshepherd.wordpress.com/2013/12/27/song-of-the-day-last-lynx/
Lobos en Bolos
http://lobosenbolos.com/?p=1896
Backseat Mafia
http://backseatmafia.com/2013/12/22/new-music-last-lynx-lacuna/
Tigers Lions & Bears
http://tlbmusic.blogspot.co.uk/2013/12/last-lynx-loving.html
Vocododo – Hype M
http://vocododo.blogspot.fr/2014/01/last-lynx-lacuna.html
Dude's Universe
http://dudreuil.com/last-lynx-lacuna/
Slow Show – Hype M
http://rosvot.fi/slowshow/fast-show-13
Pause Musicale – Hype M
http://pausemusicale.com/last-lynx-lacuna/
Earbuddy – Hype M
http://www.earbuddy.net/39699/broken-bells-yacht-pinkunoizu.html/columns/singlesbuffet
Blah Blah Blah Science – Hype M
http://blahblahblahscience.com/track-reviews/last-lynx-lacuna
Seattle in High Def – Hype M
http://seainhd.com/2013/12/last-lynx-lastlynxmusic-and-lacuna.html
In Your Speakers – Hype M
http://inyourspeakers.com/content/news/268-check-out-last-lynxs-dreamy-new-song-12172013
Invasion Magazine
http://www.invasionmag.com/2013/12/new-music-last-lynx-lacuna/
Shout 4 Music
http://www.shout4music.com/features/new-music-weekly-42
Do You Like That Song
http://doyoulikethatsong.com/2013/12/13/last-lynx-lacuna/
Beware Mag
http://bewaremag.com/2013/12/14/la-selection-89/
The Music Fix
http://music.thedigitalfix.com/content/19923/music-news-round-up-we-14-december-news.html
Goodish Music
http://www.goodishmusic.com/2013/12/download-last-lynx-lacuna.html
Your Music Today
http://www.yourmusictoday.com/2013/12/16/lynx-lacuna-download/
Under The Radar
http://www.undertheradarmag.com/media/lacuna_mp3_stream/
London On The Inside
http://londontheinside.com/2013/12/20/last-lynx-lacuna/
Musicalism
http://blog.musicalism.fm/post/70484877512/last-lynx-lacuna
Do You Like That Song
http://doyoulikethatsong.com/2013/12/13/last-lynx-lacuna/
Beware Mag
http://bewaremag.com/2013/12/14/la-selection-89/
The Music Fix
http://music.thedigitalfix.com/content/19923/music-news-round-up-we-14-december-news.html
Slow Show – Hype M
http://rosvot.fi/slowshow/fast-show-13
Pause Musicale – Hype M
http://pausemusicale.com/last-lynx-lacuna/
Earbuddy – Hype M
http://www.earbuddy.net/39699/broken-bells-yacht-pinkunoizu.html/columns/singlesbuffet
Blah Blah Blah Science – Hype M
http://blahblahblahscience.com/track-reviews/last-lynx-lacuna
Invasion Magazine
http://www.invasionmag.com/2013/12/new-music-last-lynx-lacuna/
Clash – Lacuna premiere
http://www.clashmusic.com/news/exclusive-last-lynx-lacuna
https://twitter.com/clash_music/status/410378049088004096
Hype Machine
http://hypem.com/track/21228/Last+Lynx+-+Lacuna
Earmilk
http://www.earmilk.com/2013/12/12/last-lynx-lacuna/
The Line of Best Fit
http://thelineofbestfit.com/new-music/blog/last-lynx-lacuna-143020
Hilly Dilly
http://www.hillydilly.com/2013/12/last-lynx-lacuna/
Chill Sounds Good Music
http://chillsoundsgoodmusic.blogspot.co.uk/2013/12/last-lynx-lacuna.html
FRUKT Fixers playlist
https://soundcloud.com/fruktfixers/sets/the-fix-13th-december-13
Press Play OK
http://pressplayok.com/singles-round-running-fog-rochelle-jordan-phantogram-wake-owl-last-lynx/
TMRW Magazine
http://www.tmrwmagazine.com/music/last-lynx-lacuna/
Analogue Spheres – Hype M
http://analoguespheres.com/post/69798488866
Musigh – Hype M
http://musigh.com/2013/12/13/once-upon-no-time/?utm_source=twitterfeed&utm_medium=twitter
Brightside Live
http://www.brightsidelive.com/last-lynx-lacuna-indie/
i Heart Moosiq
http://iheartmoosiq.tumblr.com/post/69838365842/swedish-band-last-lynx-first-turned-some-heads#_=_
It's All Indie
http://www.itsallindie.com/2013/12/last-lynx-reveal-new-track-lacuna.html
Portadelphia
http://portadelphia.tumblr.com/post/69593971527/last-lynx-lacuna
Silknoise
http://silknoise.com/2013/12/10/new-music-last-lynx-lacuna/
Mostly Junkfood
http://www.mostlyjunkfood.com/mp3-last-lynx-lacuna/
Alfitude
http://alfitude.com/2013/12/10/free-download-last-lynx-lacuna/
But We Have Music
http://www.butwehavemusic.com/last-lynx-lacuna-nouveau-single-24251
One From The Vaults
http://www.onefromthevaults.co.uk/2013/12/10/new-last-lynx/
Kulturbloggen
http://kulturbloggen.com/?p=78335
Festivalrykten
http://www.festivalrykten.se/lyssna-last-lynx-lacuna/
Why Figh
http://www.whyfigh.com/2013/12/12/last-lynx-lacuna/
Meadow Music
http://meadowmusic.se/en/2013/12/last-lynx-lacuna/
Best in New Music
http://www.bestinnewmusic.com/2013/12/last-lynx-lacuna.html#.UqiqoBYdLHg
Nessy Mon – 2XM
http://nessymon.com/the-london-ear-on-rte-2xm-show-12-111213/
Caesar live n loud
http://www.caesarlivenloud.com/2013/12/listen-to-lacuna-last-lynx.html
Justin Reviews The World
http://justinreviewstheworld.tumblr.com/post/69795428092/last-lynx-lacuna-look-im-a-sucker-for
Being Blogged
http://beingblogged.se/2013/12/last-lynx-lacuna/
The Kollection
http://thekollection.com/lacuna-last-lynx/?utm_medium=twitter
Hype Hits
http://www.hypehits.com/1/post/2013/12/last-lynx-lacuna.html
Music Injections
http://musicinjections.tumblr.com/post/69884292349/last-lynx-lacuna